Givat Hamatos APPROVED - What it Means
The East Jerusalem settlement surge continues and intensifies. In light of the events of the past 24 hours, a brief overview of Givat Hamatos is in order. In brief:
Givat Hamatos is the first new Israeli settlement neighborhood in East Jerusalem since Har Homa in the 1990's.
Givat Hamatos is a game-changer, if not a game-ender. It is not as devastating as E-1 in dismembering the West Bank, but it is equally or more devastating than E-1 in its impact on a political division of the city.
Givat Hamatos is happening NOW, and approval of just the first part of the plan – Givat Hamatos A – suffices in having the full detrimental impact of the scheme.
Construction of Givat Hamatos, whether private or public. can take place within a few short months, since building permits may be issued at any time, 15 days subsequent to the formal approval of the plan.
Location/History
Givat Hamatos is located beyond the Green Line but within the Jerusalem Municipal border (as defined by Israel), between the Palestinian neighborhood of Beit Safafa and Bethlehem.
Since 1967, the site was never developed.
In the 1990s, the area was used to house Russian and Ethiopian immigrants in pre-fabricated housing. There are still several pre-fabs with squatters there, but this is by no measure equal to an existing settlement. The fact is that with these approvals, the Israeli government is creating a brand new settlement.
The new settlement at Givat Hamatos is unique among the large settlement neighborhoods, in that it is not being built exclusively on State owned, expropriated lands.
Most of land is State land (through absentee property and other means) but there are also significant patches of privately-owned land, some belonging to the Palestinians of Beit Safafa, some to Jewish landowners and developers, and some to the Churches (Greek Orthodox, Custodia, etc).
A small area in the northeast corner is within the Green Line.
The Plan
The Givat Hamatos plans were all initiated and sponsored by the Israel Land Authority and the Jerusalem Development Authority (JDA), arms of the Israeli government.
The Givat Hamatos plans are divided into four statutory plans: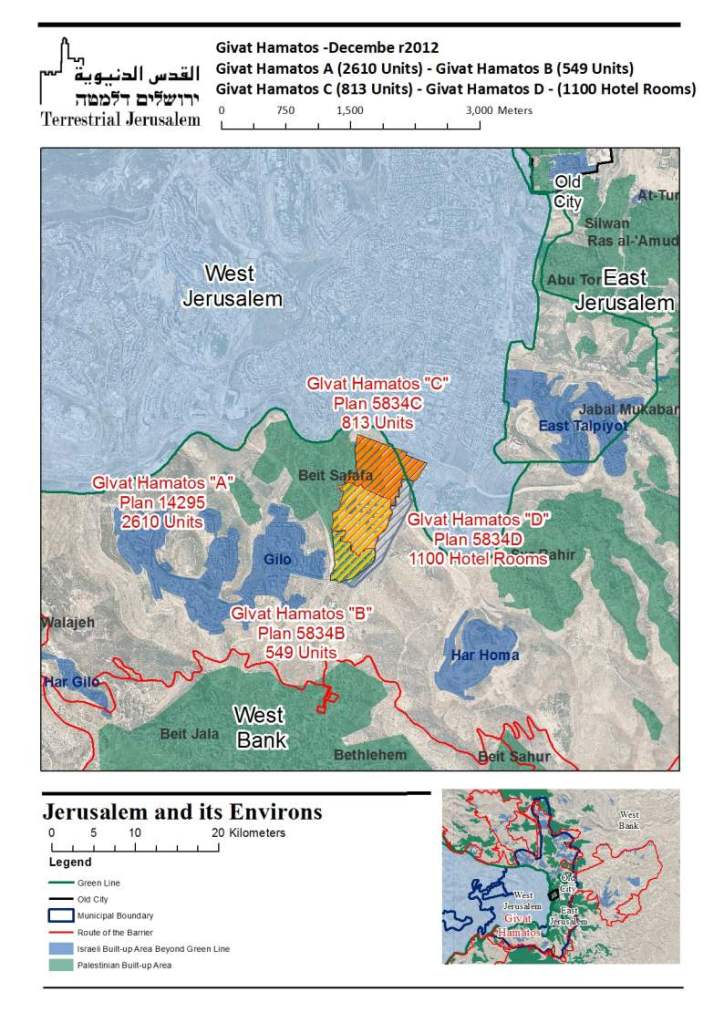 Givat Hamatos A (Plan 14295) — 2610 units
Givat Hamatos B (Plan 5834B) — 549 units
Givat Hamatos C (Plan 5834C) — 813 units
Givat Hamatos D (5834 D) – 1100 hotel rooms
These plans all dovetail, and it are best described as designating developments in 3 major and rather distinct areas:
Givat Hamatos A and Givat Hamatos C, which will together create a new Israeli settlement neighborhood, mostly but not exclusively on State land;
Givat Hamatos B (which will allow for construction in Beit Safafa) and the area of hotels in Givat Hamatos D;
Some construction for Beit Safafa on the edges of Givat Hamatos A and C.
All told, the new Israeli settlement will be about 3000 units, and the expansion of Beit Safafa will be about 1000 units.
What has happened this week?
December 18th: The Regional Committee approved Givat Hamatos B (for Beit Safafa) but did not approve Givat Hamatos C. Givat Hamatos C was rejected not due to resistance to new settlement development, but because some of the private Israeli developers asserted that the site can absorb far more than the planned 813 units. In its next iteration, the construction density of the plan will now be increased – meaning even more settlement units.
December 19th (today: The Jerusalem Municipality approved the largest and most significant of the plans – Givat Hamatos A, with a total of 2610 new units This is includes almost the entire new Israeli settlement neighborhood, and will completely seal Beit Safafa from its environs.
January 7th: Hearings on Givat Hamatos D will take place. The plan may not be approved – again, not because of any resistance to settlement construction but because the Municipality wants to change the designation from hotels to additional residential units.
The Official (and Misleading) Israeli Spin Regarding Givat Hamatos
Spin #1: "Today's approval is not final."
It is, indeed, final. Once the approval of the plan is published, tenders may be issued and permits granted. And please note, in the areas where development is on land that is not State land, private developers only need a permit – no tender need be issued.
Spin #2: "The planning is for Palestinian construction, too!"
This is true, but beside the point. This is not about allocating land within Israel. This is about using settlement development to unilaterally dictate the future border between Israel and Palestine.
Spin #3: This is a suburb of Israel; everyone knows it will become part of Israel.
Nonsense. Under the Clinton parameters, Beit Safafa would be Palestine. That can't be the case when Givat Hamatos is built. The Geneva initiative will not be possible after the construction.
Spin #4: This isn't a new settlement.
As noted above, in the 1990s this area was used to house Russian and Ethiopian immigrants in pre-fabricated housing, some of which remains in place and is inhabited by squatters. This does not equal an existing settlement. Givat Hamatos will be the first new settlement established by the government in East Jerusalem since Har Homa.
What happens next
Next stop: Mordot Gilo South, likely to be approved tomorrow.